Estimated reading time: 6 minutes
Changing jobs can be terrifying. Changing careers? Even more so! After a couple of years in a job it's easy to become complacent simply because job hunting is stressful, inconvenient, and time-consuming. 
A career in consulting isn't what one sees depicted in TV shows like House of Lies, starring Don Cheadle (if you haven't watched this, I can't recommend it enough). It's not always fancy outfits, airport lounges, and penthouse meetings in Manhattan. I guess what I'm trying to get at is, consulting at times may have a negative connotation to some, so I wanted to clear up some common misconceptions about SAP consulting specifically, and why those are just plain wrong.
1. "You need an IT background in order to become an SAP Consultant"
This is probably the one that steers the most people away from SAP consulting, and it absolutely is not true. First off, there is a difference between technical SAP consultants, and functional SAP consultants. Obviously, technical consultants usually have IT background, but functional consultants are more business-process oriented. The perfect analogy for this is your smartphone. Not everyone knows how to code and develop apps, but most people know how to configure their phones and download specific apps to make life a bit easier. This is essentially what a functional SAP consultant does, just a bit more complex, in SAP, and focused on optimizing business processes. Do you have a few years of experience as a non-IT business analyst  or other business facing role involving SAP in your day-to-day duties? You'd be the perfect candidate to start a career as a functional SAP consultant. Depending on what you did in your previous role, you would specialize in Finance, Supply Chain, HR, etc.
2. "Goodbye work-life balance"
Consultant life according to Hollywood involves a combination of airport lounges, confrontational C-Level meetings, and some not too healthy vices. You feel more comfortable ordering room service at the hotel than you do cooking a meal at home. Sure, you do get to travel more than your traditional desk job, but as COVID upended the way everyone does business, this proved that a new, better model is possible, and I think it's here to stay. More customers now know that projects can be delivered more remotely than in the past, allowing them to save costs and work more efficiently. Of course, travel will still be necessary, but my guess is it will significantly reduce moving forward even as the country continues to open back up. On another note, some weeks can be long, and working weekends does happen occasionally (this is typically when customers prefer to go-live due to reduced business disruption). But that time can be reclaimed during the week, and downtime between projects can be used for self-development, as SAP is always changing and adding new certifications for consultants to take. Most consulting companies see investing in these courses as a no-brainer.
Working at cbs America
Anytime you are searching for a new job, it's always good to apply for positions you think you're slightly underqualified for, since it's likely you are being undervalued at your current role.
3. "You need a ton of experience"
If you spend enough time on LinkedIn, you've come across those recruiter postings for entry-level, low paying job requiring 5+ years of experience. Turn the clock back to 2016, just 1 year after SAP released S/4HANA, and you were expected to have multiple years of experience in S/4HANA with a couple full-cycle implementations under your belt. I think those companies are probably still looking for someone. To start in SAP consulting, you need two things: a couple years of hands-on experience as a user of SAP, and a strange kind of passion to learn everything you can about your modules (HR, Finance, Logistics, etc.) Beyond that, companies like to search for mythical candidates that simply do not exist. Anytime you are searching for a new job, it's always good to apply for positions you think you're slightly underqualified for, since it's likely you are being undervalued at your current role. Think of it as the double step up the stairs in the career ladder. SAP consulting gives you just this.
4. "You'll be glued to your laptop 24/7"
Maybe the phrasing on this should be different because you technically are glued to your computer most days, just not any more than normal non-SAP desk jobs. What I mean by this is that SAP consulting is extremely exciting. Something like over 80% of Fortune 2000 companies use SAP in one way or another. This means you get the chance to work on super innovative projects for some of the greatest companies and see first-hand how they operate while touring some incredible facilities. You also get to interact with customers across various industries trying to understand their problems and fix them through SAP. Clearly, with the shift to more remote work as mentioned earlier, some of the time normally spent at the client might be switched to "in front of the screen" hours. But once we're back at the client you mostly lead or participate in meetings where solutions are defined and detailed out in joint, face-to-face discussions.
5. "I need to work for one of The Big Four if I want to have a successful career"
First, let me go ahead and tell you that I may be biased here. After spending almost 7 years working for a large organization, I don't think I'll ever go back. This, of course, is a personal choice. I know plenty of people who love working at large companies and putting "ex-InsertLargeTechCompanyNameHere" on their LinkedIn profiles when they move somewhere else.
Let me step down from my soapbox and talk about why working for a fast-growing consulting company can be both very rewarding and a great career move. First off, you're not just a cog in the machine. Some larger organizations can win $100 million plus projects that span 5+ years. This means you could potentially be assigned to the same client for multiple years, travelling to the same place every single week. Trust me, this isn't fun. Smaller consulting organizations tend to have more flexible models, and assign consultants to various projects simultaneously, which results in more exposure to different clients, problems, project teams, which gives you the chance to learn and grow in a much shorter timeframe. Second, fast-growing organizations tend to have a lot more upward mobility available to employees. Teams grow fast, so within a year or two the needs for Project Managers and other higher-level roles become a necessity. Most start-up-like companies would much rather promote in-house than bring in people from outside. This opportunity can be harder to find, or simply take longer time to develop at larger consultancies. Finally, and probably most importantly, you get a lot more exposure into other company functions such as Sales, Marketing, Recruiting and Operations. Wearing multiple hats and understanding all aspects of the business become critical when considering Director, VP, or even C-Level roles. So, if you come in with a "help where I can" attitude, you'll get the opportunity to develop skills you otherwise wouldn't think fall under a traditional consulting role. This, as Mastercard puts it, is priceless.
cbs Corporate Business Solutions America is a fast-growing consulting company headquartered in Devon, PA. They are a subsidiary of the established, global SAP consulting firm by the same name, generating over $100M in revenue, and 20 offices across North America, Europe, and Asia. Our vision for 2025 is to continue expanding and grow revenues by 150% to $250M. If you want to join a company where you can leave your mark, and grow your SAP career, don't hesitate to reach out to us for open positions.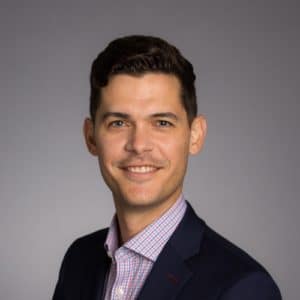 Victor Puente
Manager, Sales & Marketing
cbs Corporate Business Solutions America